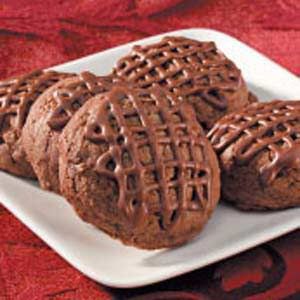 Mocha Truffle Cookies
15 Servings
Prep: 15 min. Bake: 10 min. + cooling
Ingredients
1/4 cup butter, cubed
1/4 cup semisweet chocolate chips
1-1/2 teaspoons instant coffee granules
1/3 cup sugar
1/3 cup packed brown sugar
1 egg, lightly beaten
1 teaspoon vanilla extract
1 cup all-purpose flour
2 tablespoons plus 2 teaspoons baking cocoa
1/4 teaspoon baking powder
1/8 teaspoon salt
1/3 cup English toffee bits or almond brickle chips
1 ounce milk chocolate, melted
Directions
•In a microwave-safe bowl, melt butter and chocolate; stir until
smooth. Stir in coffee granules until dissolved; cool for 5 minutes.
Transfer to a small bowl. Add the sugars, egg and vanilla.
•Combine the flour, cocoa, baking powder and salt; add to chocolate
mixture and mix well. Stir in toffee bits.
•Drop by rounded tablespoonfuls 2 in. apart onto a baking sheet
lightly coated with cooking spray.
•Bake at 350° for 8-10 minutes or until set. Cool for 1 minute
before removing to a wire rack to cool completely. Drizzle with
melted milk chocolate. Yield: 15 cookies.
Nutrition Facts: 1 cookie equals 152 calories, 7 g fat (4 g saturated fat), 25 mg cholesterol, 94 mg sodium, 22 g carbohydrate, 1 g fiber, 2 g protein.